What is Vitamin D?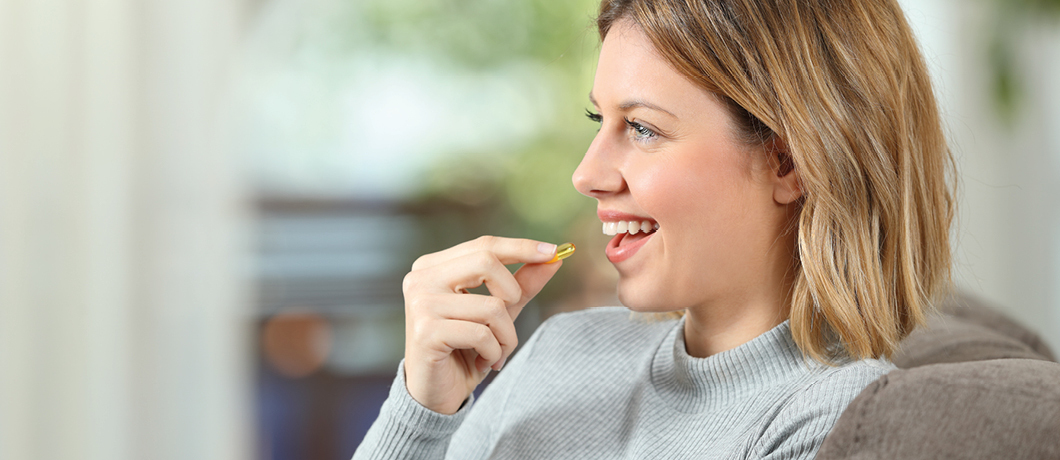 Vitamins and minerals form an essential part of wellness routines, with vitamin D often taking centre stage. But, what exactly are the benefits of vitamin D, and what makes this substance unique from other vitamins? Keep reading to find out everything you need to know.
What exactly is vitamin D?
Formally known as calciferol, vitamin D is a fat-soluble substance that supports dozens of biological processes[1]. And while it may seem like just another vitamin in the long list of dietary supplements, vitamin D not only has several unique characteristics, but plays a fundamental role in physical and mental wellbeing.
By definition, vitamins are substances the body cannot produce itself. However, vitamin D is unique because it's not technically a vitamin. It's actually a prohormone (the precursor to a hormone) produced by the skin whenever it's exposed to natural sunlight. This innate vitamin D synthesis, combined with a diet rich in oily fish, red meat and fortified cereals, means that most people get all the vitamin D they need.
However, as we'll soon discover, not everyone can maintain their vitamin D levels, which can lead to debilitating conditions such as rickets, developmental delay, and osteoporosis.
Why vitamin D is important
Vitamin D garners a lot of attention, but why exactly? To start with, vitamin D plays an essential role in our body's ability to absorb calcium and other minerals. By encouraging calcium absorption in the gut, vitamin D supports bone growth, remodelling and normal bone mineralisation.
However, the importance of vitamin D doesn't end there. The prohormone also supports:
• The immune system
• Muscle function
• Normal cell division
• Building strong teeth
We'll take a closer look at the research supporting vitamin D shortly. First, let's follow up with some good sources of vitamin D, and find out exactly how you can maintain healthy levels of this essential prohormone.
What are good sources of vitamin D?
Earlier, we highlighted that the body produces vitamin D when exposed to natural sunlight. And, for the most part, this is where most people get all the vitamin D they need.
However, there is a caveat to our ability to produce vitamin D from sunlight exposure—it needs to be direct and unfiltered. Glass windows filter out the UVB rays that trigger production, causing issues for people who work in offices, warehouses and shops. It's also particularly challenging to maintain vitamin D levels during the winter months, as there's significantly less natural sunlight.
Encouragingly, sunlight isn't the only calciferol source. Several foods are naturally rich in vitamin D. Fatty fish is one of the most abundant sources (trout, salmon and sardines), followed closely by fortified milk and cereal. You'll even find a small amount of vitamin D in egg yolk, cheese, and white mushrooms.
Finally, dietary supplements such as cod liver oil capsules or multivitamin tablets can also help balance vitamin D levels.
Differences between vitamin D2 and D3
Before we move on to the research-backed benefits of vitamin D, we need to quickly clarify the differences and similarities between vitamin D2 (ergocalciferol) and D3 (cholecalciferol). The former comes from fortified foods and plant sources, while the latter is mainly found in animal foods. Interestingly, they both share a similar chemical structure, despite the difference in origin.
Generally speaking, both types of vitamin D are good for you, but to maximise the impact, it may be best to focus on vitamin D3. Research suggests that D3 may be better at boosting overall levels of calcifediol (the metabolite of vitamin D), and D3 supplements may be less likely to degrade over time than D2.[2][3]
How vitamin D helps the body
Now we know where vitamin D comes from and which supplements are most impactful, it's time to look at the overall wellness benefits. Fortunately, there's plenty of research to explore.
Bone health
An Endotext paper titled "Calcium and Phosphate Homeostasis" outlined vitamin D's role in maintaining healthy bones and teeth[4]. The literature explains that without vitamin D, the body struggles to absorb sufficient levels of either mineral, a significant issue among children and the elderly.
A lack of vitamin D in children can lead to rickets (softening and weakening of bones), while the elderly are more likely to experience osteoporosis and osteopenia[5].
Immune system
A 2018 research paper showed a link between vitamin D and modulation of the innate and acquired immune system[6]. Naturally, this interaction led researchers to believe the prohormone plays a positive role in the body's defences, but as the report outlined, extensive evidence is lacking.
The study did, however, conclude that "vitamin D is, undoubtedly, part of the complex factors which affect the immune response". To fully assess its efficacy, "vitamin D status and maintaining optimal serum levels should be considered in all ageing adults and children".
Muscle function
A 2021 study from the University of Kentucky analysed the link between vitamin D and the maintenance of skeletal muscle and bone health[7]. Encouragingly, they found that both in vitro and in vivo models supported the role of vitamin D in "regeneration of muscle and supporting mitochondrial health".
However, the researchers also acknowledged there was still much more to learn about the intricacies of this interaction, including the difference between vitamin D analogues (D2 & D3).
Vitamin D deficiency
Vitamin D deficiency (VDD) is a sustained lack of vitamin D and is estimated to affect almost 50% of people worldwide[8]. Low levels of vitamin D will ultimately lead to various debilitating conditions, but there are some general symptoms to be aware of, including:
• Tiredness
• Bone or muscle pain
• Low mood
• Stress fractures
• Dry mouth
• Loss of appetite
Fortunately, most of the risk factors for vitamin D deficiency are linked to lifestyle, meaning small changes can help significantly. Risk factors for vitamin D deficiency include:
• Sedentary lifestyle
• Darker skin type
• Obesity
• Reduced outdoor activity
• Limited sunlight exposure (geographical location or pollution)
• Babies exclusively breastfed
If you suspect you may be suffering from vitamin D deficiency, you must discuss symptoms with a doctor or physician. The recommended vitamin D intake differs depending on your age and sex, so you'll want to ensure you're getting the correct amount[9].
The National Institutes of Health recommends the following:
• Infants 0–12 months: 400 IU (10μg)
• Children/ teens 1–18 years: 600 IU (15μg)
• Adults 19-70 years old: 600 IU (15μg)
• Adults over 70 years old: 800 IU (20μg)
How to take vitamin D
The best source of vitamin D remains direct sunlight exposure. Of course, given the damage UV rays can do to the skin, you need to be sensible with how much time you spend outside.
Provided there aren't any extenuating circumstances, sun exposure on bare skin for 5-10 minutes, 2-3 times a week, should be sufficient.
In the winter months (September-March), many people choose to supplement vitamin D. The exact amount you need to take will differ, so it's important you consider the recommended daily intake guidelines highlighted above. Supplements are best taken with a meal given vitamin D's fat-soluble nature.
There's certainly a lot to unpack with vitamin D. Still, as you can see, there are several good reasons to maintain healthy levels, not least of all its versatile role in strong bones and teeth. And although vitamin D deficiency is common among all age groups, you can quickly remedy most situations with changes to lifestyle, diet and readily available supplements.
Boost your vitamin D status with the exclusive CBD Vitamin D3 Formula from Cibdol. Or, to learn more about the impact of vitamins and minerals on wellbeing, visit our CBD Encyclopedia for everything you need to know.
[1] NHS choices. https://www.nhs.uk/conditions/vitamins-and-minerals/vitamin-d/. Published 2020. Accessed February 2, 2022. [Source]
[2] Tripkovic L;Lambert H;Hart K;Smith CP;Bucca G;Penson S;Chope G;Hyppönen E;Berry J;Vieth R;Lanham-New S; L. Comparison of vitamin D2 and vitamin D3 supplementation in raising serum 25-hydroxyvitamin D status: A systematic review and meta-analysis. The American journal of clinical nutrition. https://pubmed.ncbi.nlm.nih.gov/22552031/. Published 2012. Accessed February 2, 2022. [Source]
[3] R; HLAV. The case against Ergocalciferol (vitamin D2) as a vitamin supplement. The American journal of clinical nutrition. https://pubmed.ncbi.nlm.nih.gov/17023693/. Published 2006. Accessed February 2, 2022. [Source]
[4] Shaker JL. Calcium and phosphate homeostasis. Endotext [Internet]. https://www.ncbi.nlm.nih.gov/books/NBK279023/. Published January 19, 2018. Accessed February 2, 2022. [Source]
[5] Gani LU, How CH. Pill series. vitamin D deficiency. Singapore medical journal. https://www.ncbi.nlm.nih.gov/labs/pmc/articles/PMC4545131/. Published August 2015. Accessed February 2, 2022. [Source]
[6] Gruber-Bzura BM. Vitamin D and influenza-prevention or therapy? International journal of molecular sciences. https://www.ncbi.nlm.nih.gov/labs/pmc/articles/PMC6121423/. Published August 16, 2018. Accessed February 2, 2022. [Source]
[7] Latham CM, Brightwell CR, Keeble AR, et al. Vitamin D promotes skeletal muscle regeneration and mitochondrial health. Frontiers. https://www.frontiersin.org/articles/10.3389/fphys.2021.660498/full. Published April 14, 2021. Accessed February 2, 2022. [Source]
[8] Nair R, Maseeh A. Vitamin D: The "Sunshine" vitamin. Journal of pharmacology & pharmacotherapeutics. https://www.ncbi.nlm.nih.gov/labs/pmc/articles/PMC3356951/. Published April 2012. Accessed February 2, 2022. [Source]
[9] Office of dietary supplements - vitamin D. NIH Office of Dietary Supplements. https://ods.od.nih.gov/factsheets/VitaminD-Consumer/. Published 2021. Accessed February 2, 2022. [Source]
[1] NHS choices. https://www.nhs.uk/conditions/vitamins-and-minerals/vitamin-d/. Published 2020. Accessed February 2, 2022. [Source]
[2] Tripkovic L;Lambert H;Hart K;Smith CP;Bucca G;Penson S;Chope G;Hyppönen E;Berry J;Vieth R;Lanham-New S; L. Comparison of vitamin D2 and vitamin D3 supplementation in raising serum 25-hydroxyvitamin D status: A systematic review and meta-analysis. The American journal of clinical nutrition. https://pubmed.ncbi.nlm.nih.gov/22552031/. Published 2012. Accessed February 2, 2022. [Source]
[3] R; HLAV. The case against Ergocalciferol (vitamin D2) as a vitamin supplement. The American journal of clinical nutrition. https://pubmed.ncbi.nlm.nih.gov/17023693/. Published 2006. Accessed February 2, 2022. [Source]
[4] Shaker JL. Calcium and phosphate homeostasis. Endotext [Internet]. https://www.ncbi.nlm.nih.gov/books/NBK279023/. Published January 19, 2018. Accessed February 2, 2022. [Source]
[5] Gani LU, How CH. Pill series. vitamin D deficiency. Singapore medical journal. https://www.ncbi.nlm.nih.gov/labs/pmc/articles/PMC4545131/. Published August 2015. Accessed February 2, 2022. [Source]
[6] Gruber-Bzura BM. Vitamin D and influenza-prevention or therapy? International journal of molecular sciences. https://www.ncbi.nlm.nih.gov/labs/pmc/articles/PMC6121423/. Published August 16, 2018. Accessed February 2, 2022. [Source]
[7] Latham CM, Brightwell CR, Keeble AR, et al. Vitamin D promotes skeletal muscle regeneration and mitochondrial health. Frontiers. https://www.frontiersin.org/articles/10.3389/fphys.2021.660498/full. Published April 14, 2021. Accessed February 2, 2022. [Source]
[8] Nair R, Maseeh A. Vitamin D: The "Sunshine" vitamin. Journal of pharmacology & pharmacotherapeutics. https://www.ncbi.nlm.nih.gov/labs/pmc/articles/PMC3356951/. Published April 2012. Accessed February 2, 2022. [Source]
[9] Office of dietary supplements - vitamin D. NIH Office of Dietary Supplements. https://ods.od.nih.gov/factsheets/VitaminD-Consumer/. Published 2021. Accessed February 2, 2022. [Source]