What is CBD oil?
The main ingredient, CBD (cannabidiol), is one of over a hundred cannabinoids that exist within Cannabis sativa.
These natural compounds are unique because of the way they interact with our body, and CBD is no exception.
CBD's role as a cannabinoid is diverse, but one of the primary reasons it is so accessible is because of its non-psychotropic characteristics and excellent safety profile. As such, the oil is one of the most popular cannabidiol products.
CBD oil ingredients
The ingredients in a bottle of CBD oil vary depending on the formula. Some preparations are more streamlined and contain as few as three ingredients; others contain additional herbs and extracts.
At Cibdol, our standard product features only three ingredients:
• CBD: Derived from CO₂-extracted hemp. The concentration in our preparations ranges from 2.5–40%.
• Terpenes: Aromatic molecules that produce synergistic effects.
• Carrier: A nutritionally dense carrier oil that binds to the cannabinoid and helps to shuttle active phytochemicals into the body.
Once it is extracted from plant material, it's added to a carrier oil, bottled, and sold. The reason it's mixed with oils such as olive, hemp, and MCT is to improve how well it's absorbed in the body, while also providing a variety of complementary nutritional benefits.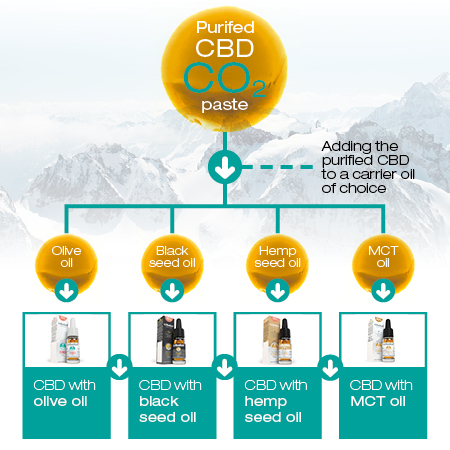 Our products are available in a range of varieties and concentrations..
How does it work?
It belongs to a class of organic compounds called phytocannabinoids (commonly referred to as cannabinoids). These compounds are unique due to their ability to influence the human body through activation of the following receptors:
• CB1 and CB2
• TRPV
• GPR55
CB receptors, or cannabinoid receptors, influence a regulatory system known as the endocannabinoid system (ECS). Its primary function is to act as a homeostatic regulator, supporting how the body balances various biological systems.
CBD's influence on the ECS is extraordinary because it acts as a "general manager" of the entire system, rather than binding to CB receptors. It supports the ECS as a whole to help the body function in a balanced state.

By encouraging the production of beneficial endocannabinoids, enzymes, and neurochemicals, CBD is thought to impact our digestive, central, and peripheral nervous systems, among others. When our body is in a balanced state, it operates at its most efficient and is better equipped to deal with fluctuations in our physical and mental health.
What effects does it have?
Due to the unique interaction between the products and the endocannabinoid system (ECS), the compound may influence dozens of physiological processes and systems. Research is ongoing, but preclinical studies suggest the compound may have the following properties:
Can CBD oil help with your condition?
The effects of CBD oil uk may vary from one individual to the next; as such, you should always consult a doctor before taking it to address a particular condition.
The full impact of CBD is still under review. Thus, we can make no claims about its potential to treat specific conditions. However, early research suggests that the cannabinoid may have future applications.
Please note, cbd products from Cibdol are not intended as a replacement for any form of medicine.
Which CBD oil is best for you?
Alongside the traditional oil (a blend of CBD and olive oil), we also offer a wide selection of alternative carrier oils. Paired with our golden-grade products, hemp oil, MCT oil, and black cumin seed oil provide a range of secondary benefits.
Hemp oil, for example, contains a high amount of antioxidants alongside plant protein and omega fatty acids 3 & 6, while black cumin seed oil won't disturb or upset the delicate balance of terpenes and cannabinoids in our formula.
Finally, if cannabidiol is difficult to incorporate into your daily routine, we have a variety of CBD softgel capsules in 4% and 10% concentrations for a tasteless and odourless alternative. CBD softgel capsules contain a predetermined dose of CBD and olive oil.
How do you take it?
You can take CBD oil on the tongue, under it, or with food and drink. How you choose to consume it is a matter of personal preference.
Shake the bottle well before use, and fill the dropper to the required level. Administer the recommended dose in your mouth and hold for 60 seconds before swallowing. If you have difficulty taking a precise dose, try taking it in front of a mirror.
Why take CBD oil under the tongue?
CBD products taken under the tongue bypasses the digestive system and enters the bloodstream via tiny capillaries under the tongue and inside the cheek. Not only is the onset of effects quicker, but they are also more pronounced.
Whether you take your oil on or under the tongue, for best results, hold the liquid in your mouth for 60 seconds before swallowing.
How do you dose?
If you're new to CBD, start with 2–3 drops, up to three times a day. The recommended dosage for Cibdol products is 3–4 drops, three times a day, although this may vary according to individual circumstances.
Which percentage of CBD oil is right for you?
Cibdol CBD Oil (with olive oil carrier), CBD Hemp Seed Oil, and CBD Black Cumin Seed Oil all feature the same CBD extract in a range of concentrations to suit the user's desired outcome. By offering 2.5, 5, 10, 15, 20, 30 and 40% oils, Cibdol will meet your needs, no matter the situation.
If you're new to cannabidiol, we recommend starting with a low-concentration oil until you become accustomed to its effects. Stick to the same frequency and concentration for several days, before gradually increasing until you reach the desired dosage.
The ideal oil concentration, and the recommended frequency, will vary according to your individual circumstances.
How long do the effects of CBD oil last?
Generally, it will begin to take effect approximately 40–60 minutes after consumption, with the duration of CBD's effects lasting several hours. Alternatively, when taken sublingually (under the tongue), effects take place much more quickly due to fast absorption by the oral mucosa. However, the effects of sublingual CBD do not last as long as when it is orally consumed.
Please be aware that factors such as metabolism, body weight, oil concentration, and frequency of dosing can also affect both the onset and duration of effects.
It's essential to start with a low dose of CBD until you become accustomed to the compound's effects. For the best CBD experience, experiment with different consumption methods to find out which one suits your lifestyle and needs.
Will CBD oil show up on a drug test?
The majority of workplace drug tests are focused on detecting high levels of THC, not CBD. Therefore, CBD oil produced to the correct standard should not trigger a positive result. However, many consumers may be unaware of the actual cannabinoid content of their CBD oil.
At Cibdol, we use independent testing and verification to confirm the contents of our formula. If you need CBD oil that is guaranteed to contain THC levels well below the legal threshold, choose Cibdol.
Is CBD oil safe?
As part of a comprehensive review by the World Health Organisation (WHO), CBD was found to be "well-tolerated". Their study also found that "CBD exhibits no effects indicative of any abuse or dependence potential", going on to add that "there is no evidence of recreational use of CBD".
CBD oil may, however, interfere with the breakdown of certain prescription medications. This is the result of the cannabinoid's interaction with enzymes in the liver. If you are currently taking, or plan to take, prescription medication, speak to your doctor first before trying CBD oil.
Some preliminary studies have also reported mild side effects from high doses. These include diarrhoea, fatigue, dry mouth, and changes in appetite.

Does it expire?
CBD oil is a perishable product, so we recommend storing the bottle in a dry, cool, and dark location for best results. The ideal place to store CBD oil is in a refrigerator, ensuring the lid is secured tightly when not in use.
Our products include a printed expiry date on the label and a corresponding batch number.
How is CBD oil made from hemp?
CBD is derived from the leaves and flowers of mature hemp plants using sophisticated extraction methods, purification, and distillation.
To produce our golden-grade oil, we only use naturally grown European hemp.
To ensure unrivalled purity, our oils undergo several stages of production, each with strict quality controls. One of the most crucial steps in producing CBD is isolating the relevant cannabinoids and terpenes via CO₂ extraction.
CO₂ extraction is a superior method of isolating cannabinoids and other compounds.
CO₂ is a natural product that's all around us. It's easily accessible and supports photosynthesis in plants. CO₂ extraction ensures we maintain complete control over the contents of the final product—no toxins or harmful chemicals are present after the plant material is processed.
The result is golden-grade CBD oil free from adverse levels of THC, plant matter, GMOs, and artificial additives.

Is CBD oil the same as hemp oil?
Although we at Cibdol provide the products with a hemp oil carrier, this is not the same as the hemp oil you'll find on the shelves of supermarkets or high-street wellness stores.
Pure hemp oil does not contain any cannabinoids, and therefore will not provide the same effect.
CBD Oil vs Cannabis Oil
It's also common for consumers to confuse the product with cannabis oil.
The term "cannabis oil" is sometimes used to describe CBD oil; however, it's more commonly used to describe oil produced from marijuana strains containing significant THC levels.

While cannabis oil may contain CBD, the presence of THC makes it unsuitable for many users.

Moreover, cannabis oils are not legal in most EU countries.

To ensure you know what is, and isn't, included in every bottle, all of the CBD products we produce are tested independently. All test results are available to view on our "CBD Analysis" page.
If you want to learn more about cannabis oil and how it compares to CBD oil, this guide on cannabis oil will help you get started.
Is it legal to buy?
CBD oil uk is legal to buy in both Europe and the US, provided it meets strict regulatory standards.
In Europe and the UK, products containing CBD must be derived exclusively from hemp, while also containing no more than 0.2% THC (some countries allow up to 0.3% THC). The entire CBD range sold by Cibdol adheres to EU regulations. Country-specific legislation may vary, and as such, we recommend checking at a local level before buying CBD oil.
In the US, CBD must also be derived exclusively from hemp, but the THC limit is 0.3% THC. Due to the complexity of laws at a state level, we strongly recommend checking local regulations before buying CBD prodcuts.
CBD oil UK: Buying CBD oil in the United Kingdom
CBD oil uk is considered legal in the UK and is available without a prescription from your doctor. At Cibdol, we make it easy to buy it in the UK with a simple to use online store.
We not only accept all major payment methods (Visa, Mastercard, Maestro, and bank wire transfer), but we take the uncertainty out of buying CBD online.
Non-profit initiative Fundación Canna independently tests all of our CBD products. We also examine the soil where our hemp is grown and publish all of the relevant test results on our CBD Analysis page for customers to view. You can buy CBD oil in the UK with complete confidence, thanks to the purest CBD in the world from Cibdol.
Can you travel with CBD products?
Although CBD oil is considered legal in the majority of countries, local regulations surrounding its cannabinoid content may vary. The global CBD industry remains largely under-regulated, and this can make it confusing for customers. For the majority of users, flying or travelling with CBD oil is not advised.
If you must travel with it, we recommend checking with local law enforcement and clarifying the rules regarding CBD with the relevant transport authority.
Why choose full spectrum CBD oil?
When cannabinoids and terpenes exist together, their respective attributes are enhanced thanks to a phenomenon known as the entourage effect. All of our CBD oil uses a full-spectrum formula. This diverse selection of all-natural cannabinoids includes:
• CBN
• CBG
• CBC
• CBDV
• CBDA
• CBGA
Over twenty essential terpenes also complement our formula. Terpenes play a crucial role in the entourage effect, while also having several potential beneficial properties of their own.

Why buy CBD oil from Cibdol?
Cibdol's range of CBD oil works to enhance and promote the balance needed for optimal well-being. Made using the purest CBD and natural ingredients like olive oil, hemp oil, and black cumin seed oil, you will feel the difference in every drop.
Cibdol CBD Oil is THC-free, legal, and safe.
All of our oils are suitable for vegans, with selected products being Halal-certified. Buy CBD oil online from Cibdol today, and embrace all that this versatile cannabinoid has to offer!
What other CBD products are available?
CBD is a versatile compound easily infused with a variety of additional compounds. Alongside our CBD oil range, we also provide CBD capsules, CBD creams, supplements and cosmetics.
The right CBD product will depend on individual circumstances. If you are unsure which type of CBD product is suitable for you, we recommend speaking to a doctor first.
If you have any questions regarding the type of CBD products we provide or the ingredients used, don't hesitate to contact a member of our customer service team using our "Contact Us" page.
Can you combine different CBD products?
If you want to combine CBD oil with CBD softgel capsules or any of the CBD supplements we provide, it's perfectly viable to do so. The frequency and type of products you mix are a matter of personal circumstances, but we recommend tracking your total daily intake of CBD in milligrams.
CBD Oil: Questions & Answers
Can you get high from CBD oil?

No, it is not possible to get high from CBD oil—as long as it does not contain any psychotropic compounds like THC.

What is CBD oil good for?

CBD oil interacts with our innate systems via receptors found throughout the body. Research is ongoing, but it is believed CBD could influence dozens of biological processes to promote and support well-being.

How do I store CBD oil?

Light, heat, and air exposure all play a part in the breakdown of natural cannabinoids like CBD, so it is important to defend against them. A kitchen cabinet or desk drawer fully meets these requirements. The temperature of the storage environment should be between 6–20°C.

Can I keep CBD oil in the fridge?

Yes, CBD oil can be kept in the fridge for an extended period of time. Lower temperatures can affect the colour and viscosity of the product. There might be some precipitation (looks like flakes falling out of the oil), but it will go away when it is back at room temperature. There is no loss of potency, and it won't damage the product.

Is CBD the same as THC?

Although CBD and THC are both found in Cannabis sativa, each has a very different effect on the human body. THC is a psychotropic cannabinoid, which can cause unwanted side effects when consumed in large concentrations. It does this by binding to CB1 receptors in the brain.

How do liposomes affect CBD oil?

Liposomes are tiny vesicles that shield molecules as they travel through the human body. Using state-of-the-art techniques, we've harnessed liposomes in our golden-grade oil for a CBD solution that is up to four times stronger than traditional CBD oil. Cibdol provides Liposomal CBD Oil in 2.5 and 4% concentrations. This specialised CBD oil makes use of pharmaceutical-grade liposomes to improve both the potency and efficiency of CBD. However, due to the presence of alcohol, liposomal products are not suitable for children or pregnant women/breastfeeding mothers.