What Is Echinacea?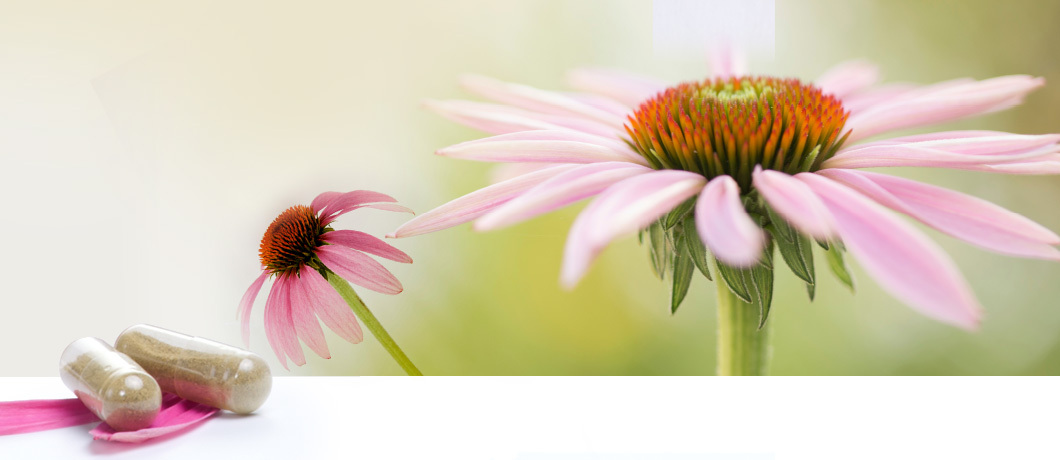 World-renowned and packed full of active compounds, Echinacea, a group of flowering plants from the daisy family, has many tricks concealed within its brightly coloured petals. Keep reading to find out why Echinacea is so popular and how it could support well-being.
What is Echinacea?
Echinacea is a genus of perennial herbs that grow natively in parts of North America, but most people know it as an over-the-counter herbal supplement (often in the form of Echinacea purpurea). The plant's global appeal stems from its abundance of active compounds and seemingly vast influence on well-being.
• Some evidence suggests that this prominent member of the daisy family could impact inflammation, flu symptoms, wound healing, and much more.
However, before diving straight into scientific research, let's take some time to get to know this vibrant flowering plant. Also going by the name "coneflower" (thanks to its bulbous flower head), Echinacea typically features dozens of brightly coloured petals with a large flower head at its centre. The herb can reach heights of 140cm in the right conditions, but it isn't its size that is most impressive.
How Echinacea works
Instead, it's the vast collection of antioxidants within Echinacea that prove most alluring. Take a peek at the flowers, leaves, and roots of coneflower under a microscope, and you'll spot flavonoids, chicoric acid, and rosmarinic acid. These active compounds are then carefully extracted and sold as Echinacea supplements.
Although several species make up the Echinacea genus, three, in particular, are the best candidates for herbal supplements: Echinacea purpurea, Echinacea angustifolia, and Echinacea pallida. This trifecta of herbaceous flowering plants is thought to contain the most significant levels of the compounds highlighted above.
What is Echinacea good for?
With three species and a sophisticated blend of antioxidants to consider, what exactly can you expect from Echinacea? As it turns out, quite a lot.
Echinacea and the immune system
Despite being widely touted as a remedy for cold and flu symptoms, there isn't much research to support Echinacea's influence on the immune system. That's not to say it's lacking entirely, as there are a handful of papers outlining the plant's proposed mechanisms.
These include a 1994 systematic review of controlled clinical trials, a 2007 study of the innate and adaptive immune system, and a 2014 examination of the herb's impact on T cell function.[1],[2],[3] All three studies suggest Echinacea (specifically E. angustifolia) could help to modulate the immune system for an improved response.
Of course, these studies aren't without their faults. Many of the experiments don't account for variables such as "plant material, extraction methods, and the addition of other components".[4]
Echinacea and inflammation
We highlighted earlier that one of the active compounds in Echinacea is chicoric acid, a natural phenolic acid that the Laboratory of Functional Chemistry and Nutrition of Food in China believes has "powerful antioxidant and antiobesity activities".[5]
The researchers found that chicoric acid extracted from Echinacea purpurea influenced "inflammatory mediators and cytokines" as part of an animal model of induced neuroinflammation. Sadly, neuroinflammation is a frequent symptom of Alzheimer's disease, having a significant impact on cognitive function.
Echinacea and the skin
Echinacea capsules or tinctures aren't the only way you could benefit from its proposed wellness-boosting effects. Research from 2011 outlined a potential benefit when applying the herb topically. Evidence from the University of British Columbia suggests Echinacea purpurea could reduce the "secretion of substantial amounts of several pro-inflammatory cytokines" prevalent in severe cases of acne.[6]
An earlier study laid the groundwork for this investigation by indicating that formulations "showed no irritation to skin" among ten healthy volunteers aged 25–40 years.[7]
What are the side effects of Echinacea?
Encouragingly, the herb appears generally well-tolerated.[8] The most commonly reported adverse effects are rash, nasal congestion, runny nose, and a scratchy throat—all symptoms of an allergic reaction. Given that Echinacea is a flowering herb, anyone allergic to ragweed, marigolds, or daisies should avoid Echinacea entirely.
And, of course, if you have any concerns about taking Echinacea extract orally or applying it topically, you should consult your doctor. It's important to note that potential long-term side effects from Echinacea remain under investigation.
How to take Echinacea
Considering the relative safety of high-quality supplements, the best approach for taking Echinacea is to follow manufacturer guidelines. You must also consider the administration method, as the herb's influence varies accordingly:
• Dry-powdered Echinacea extract and liquid tinctures are consumed orally, usually several times a day. These supplements focus mainly on internal wellness benefits.
• Echinacea creams use the herb's blend of antioxidants to influence skin. Again, these are typically applied several times a day, with users rubbing the lotion gently into affected areas.
How much Echinacea should I take?
Unfortunately, there aren't any exact dosage recommendations for Echinacea, but that doesn't mean it's not a good idea to do some research on the subject, according to your goals and how you plan to take it. For example, orally consumed extracts will have different dosage recommendations than Echinacea creams.
It's also important to note that extracts may interfere with existing medications—an important consideration if you have an underlying health condition. As stated above, it's best to follow the guidance on specific Echinacea products and to discuss dosage recommendations with a doctor.
Echinacea: A versatile herbal supplement
There's no doubt that Echinacea has a wealth of potential. Its widespread appeal certainly paints a compelling picture, but we shouldn't overlook the need for controlled clinical trials. Yet, provisional results point to promising interactions, which, combined with the herb's mild side effects profile, position it as a potent ally to improved well-being.
Provided you follow a slow and steady approach, there's no reason not to experience Echinacea's wellness potential for yourself. As always, remember to focus on high-quality products to ensure they contain the plant's abundance of powerful antioxidants.
Ready to experience the vast influence of Echinacea firsthand? Why not try our CBD Immune Booster supplement, which boasts an exclusive Echinacea-infused formula. Or, to learn more about the compounds inside Echinacea, visit our CBD Encyclopedia for everything you need to know.
[1] Melchart D;Linde K;Worku F;Bauer R;Wagner H; Immunomodulation with Echinacea - A systematic review of controlled clinical trials. Phytomedicine : international journal of phytotherapy and phytopharmacology. https://pubmed.ncbi.nlm.nih.gov/23195946/. Published 1994. Accessed March 16, 2022. [Source]
[2] Zhai Z;Liu Y;Wu L;Senchina DS;Wurtele ES;Murphy PA;Kohut ML;Cunnick JE; Z. Enhancement of innate and adaptive immune functions by multiple echinacea species. Journal of medicinal food. https://pubmed.ncbi.nlm.nih.gov/17887935/. Published 2007. Accessed March 16, 2022. [Source]
[3] Kim HR;Oh SK;Lim W;Lee HK;Moon BI;Seoh JY; H-R. Immune enhancing effects of echinacea purpurea root extract by reducing regulatory T cell number and function. Natural product communications. https://pubmed.ncbi.nlm.nih.gov/24868871/. Published 2014. Accessed March 16, 2022. [Source]
[4] Karsch-Völk M;Barrett B;Kiefer D;Bauer R;Ardjomand-Woelkart K;Linde K; M. Echinacea for preventing and treating the common cold. The Cochrane database of systematic reviews. https://pubmed.ncbi.nlm.nih.gov/24554461/. Published 2014. Accessed March 16, 2022. [Source]
[5] Liu Q;Chen Y;Shen C;Xiao Y;Wang Y;Liu Z;Liu X; Q. Chicoric acid supplementation prevents systemic inflammation-induced memory impairment and amyloidogenesis via inhibition of NF-ΚB. FASEB journal : official publication of the Federation of American Societies for Experimental Biology. https://pubmed.ncbi.nlm.nih.gov/28003341/. Published 2017. Accessed March 16, 2022. [Source]
[6] JB; SMSRSAH. The potential use of Echinacea in acne: Control of Propionibacterium acnes growth and inflammation. Phytotherapy research : PTR. https://pubmed.ncbi.nlm.nih.gov/20830697/. Published 2011. Accessed March 16, 2022. [Source]
[7] S; YSRJRPO. Skin improvement and stability of echinacea purpurea dermatological formulations. International journal of cosmetic science. https://pubmed.ncbi.nlm.nih.gov/20384903/. Published 2010. Accessed March 16, 2022. [Source]
[8] S; MAVMS. Echinacea purpurea: Pharmacology, phytochemistry and Analysis Methods. Pharmacognosy reviews. https://pubmed.ncbi.nlm.nih.gov/26009695/. Published 2015. Accessed March 16, 2022. [Source]
[1] Melchart D;Linde K;Worku F;Bauer R;Wagner H; Immunomodulation with Echinacea - A systematic review of controlled clinical trials. Phytomedicine : international journal of phytotherapy and phytopharmacology. https://pubmed.ncbi.nlm.nih.gov/23195946/. Published 1994. Accessed March 16, 2022. [Source]
[2] Zhai Z;Liu Y;Wu L;Senchina DS;Wurtele ES;Murphy PA;Kohut ML;Cunnick JE; Z. Enhancement of innate and adaptive immune functions by multiple echinacea species. Journal of medicinal food. https://pubmed.ncbi.nlm.nih.gov/17887935/. Published 2007. Accessed March 16, 2022. [Source]
[3] Kim HR;Oh SK;Lim W;Lee HK;Moon BI;Seoh JY; H-R. Immune enhancing effects of echinacea purpurea root extract by reducing regulatory T cell number and function. Natural product communications. https://pubmed.ncbi.nlm.nih.gov/24868871/. Published 2014. Accessed March 16, 2022. [Source]
[4] Karsch-Völk M;Barrett B;Kiefer D;Bauer R;Ardjomand-Woelkart K;Linde K; M. Echinacea for preventing and treating the common cold. The Cochrane database of systematic reviews. https://pubmed.ncbi.nlm.nih.gov/24554461/. Published 2014. Accessed March 16, 2022. [Source]
[5] Liu Q;Chen Y;Shen C;Xiao Y;Wang Y;Liu Z;Liu X; Q. Chicoric acid supplementation prevents systemic inflammation-induced memory impairment and amyloidogenesis via inhibition of NF-ΚB. FASEB journal : official publication of the Federation of American Societies for Experimental Biology. https://pubmed.ncbi.nlm.nih.gov/28003341/. Published 2017. Accessed March 16, 2022. [Source]
[6] JB; SMSRSAH. The potential use of Echinacea in acne: Control of Propionibacterium acnes growth and inflammation. Phytotherapy research : PTR. https://pubmed.ncbi.nlm.nih.gov/20830697/. Published 2011. Accessed March 16, 2022. [Source]
[7] S; YSRJRPO. Skin improvement and stability of echinacea purpurea dermatological formulations. International journal of cosmetic science. https://pubmed.ncbi.nlm.nih.gov/20384903/. Published 2010. Accessed March 16, 2022. [Source]
[8] S; MAVMS. Echinacea purpurea: Pharmacology, phytochemistry and Analysis Methods. Pharmacognosy reviews. https://pubmed.ncbi.nlm.nih.gov/26009695/. Published 2015. Accessed March 16, 2022. [Source]