Stress vs anxiety: what's the difference?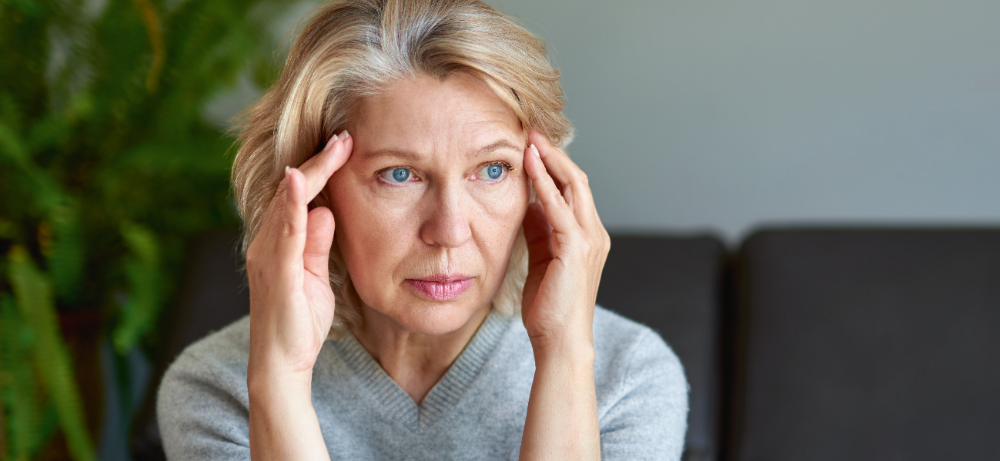 Many people confuse stress and anxiety because of how similar they feel. However, it's important to know the differences between them and how both stress and anxiety can affect mental and physical health. To find out everything that you need to know, keep reading.
What is stress?
Stress is an overarching state that can disrupt mental and physical health in an effort to help the body react to difficult situations. When we feel under pressure, our bodies respond with an innate fight or flight reaction. By triggering the release of specific neurochemicals and shifting focus away from non-essential systems, the body enters a state of readiness, helping us address challenging situations.
Although specific stress triggers differ from person to person, this in-built reaction is natural for all of us. The problem, however, is that our bodies can only maintain these changes for so long. If stress persists and becomes chronic, it disrupts the functions we need in order to live a healthy and balanced life.
What is anxiety?
If you've ever felt worried or fearful about what's to come—that's anxiety. It's perfectly normal to feel this way, especially when dealing with unknown situations, like a job interview or meeting someone for the first time.
Anxiety is your body's way of telling you something may be wrong, but that doesn't mean you should entirely avoid situations that make you feel anxious. They can motivate you to work through your anxiety and come out the other end feeling triumphant. However, persistent anxiety (usually longer than six months), or anxious feelings for no apparent reason mean you may have an anxiety disorder.
What causes stress and anxiety?
When it comes to stress, triggers can differ significantly. When you first start working, handling five tasks can be stressful, but as you learn to prioritise and get more confident, that stress fades.
The most important thing to remember is we all deal with stress differently. There's no definitive guide as to what situations or events are stressful, but what's important is learning to spot signs of stress and knowing how to deal with it.
As for anxiety, it's a little easier for us to outline situations that make people feel anxious because the feeling is prevalent. Everyday situations that can make us feel anxious include:
• Job interviews
• Work presentations
• Meeting the in-laws
• Giving a speech
• Financial worries
• Health concerns
Although it may seem like there's no end to situations that can make us feel anxious, it's a perfectly normal sensation. Again, the key is recognising the feeling and having a strategy to deal with it.
How to tell if I'm dealing with stress or anxiety?
Given the crossover between the two conditions, it's easy to see why people have a hard time knowing if they are dealing with stress or anxiety. And, while it's not uncommon to experience a bit of both, there's a fundamental difference that separates the two.
Stress is essentially the body's reaction to an external influence, while anxiety is much more of an internal feeling. For example, if you are dealing with a challenging situation, and symptoms dissipate after that situation is resolved, then you are likely dealing with stress. If, however, you remove the external influence, but still feel worried or overwhelmed, you're more likely experiencing anxiety.
If in doubt, remember that stress is typically a reaction to something, while anxiety is a state of mind that can persist despite apparent triggers. Once you know how to tell the two apart, tackling them becomes significantly easier.
How stress and anxiety can impact your health
It makes sense to start with the impact of stress because, as you'll see, it can affect virtually the whole body. That's not to say all people experience all symptoms at the same time. Instead, the exact impact of stress depends on genetics, lifestyle, and any underlying health conditions. However, as a general indicator, stress can cause the following health problems:
• High blood pressure
• Low sex drive
• Disturbed sleep
• Digestive tract issues
• Depression
As for anxiety, the impact on health is slightly more nuanced. General anxiety tends to make us feel worried or distressed, which in turn, can lead to the following:
• Upset stomach
• Difficulty concentrating
• Tiredness
• Dry mouth
• General aches and pains
However, many of the symptoms can get worse if anxiety manifests as one of several anxiety disorders. We won't list the possible health impact of each one, but it's not uncommon for people to experience a range of mental and physical complaints.
How to relieve stress and anxiety
Even with the broad impact of stress and anxiety, the good news is that many stress-relieving strategies work for both. And, because anxiety is often a frequent symptom of stress, it makes sense to start at the source, reducing overall stress levels.
The ideal strategy will depend on your particular wellness needs and lifestyle, but to get you started, try the following:
• Mediation: The beauty of mediation is that it works no matter your schedule. Even if you only have ten spare minutes before work, that can be enough to collect your thoughts, and focus on the here and now.
• Walking: It may sound simple, but walking is one of the best activities you can add to your daily routine to tackle stress. And, if you're lucky enough to live in the countryside, a short walk outside could be even more beneficial, according to researchers[1].
• Breathing exercises: Working in tandem with meditation, breathing exercises can work wonders for reducing feelings of anxiety. Focus on breathing in through your nose and filling your belly with air. Hold for a second before breathing back out through your nose.
• Supplements: Diet and nutrition can significantly influence how well our body handles the physical impact of stress and anxiety. Multivitamins are an excellent choice for busy individuals, as are natural supplements like lavender, chamomile and CBD.
Alongside the wellness strategies highlighted above, CBD can help your body get back to its natural equilibrium. A balanced state can help you look and feel your best, and when your biological systems are working in harmony, the mind and body are better equipped to deal with the impact of stress and anxiety.
Are you considering the wellness-boosting impact of high-quality CBD? Why not browse the Cibdol store for a complete selection of oils, capsules, creams and more? Or, if you still have questions about stress, anxiety and anxiety disorders, visit our CBD Encyclopedia to find out more.
[1] Meredith G.R., Rakow D.A., Eldermire E.R.B., Madsen C.G., Shelley S.P., Sachs N.A. (2020) Minimum time dose in nature to positively impact the mental health of college-aged students, and how to measure it: A scoping review. Frontiers in Psychology. https://doi.org/10.3389/fpsyg.2019.02942 [Source]