Introducing React Faster and Focus Better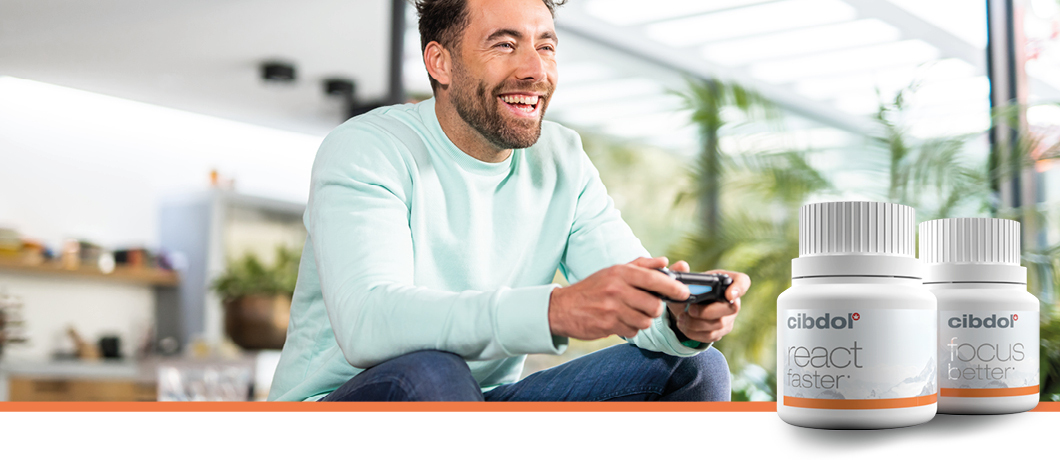 No matter the challenge, Cibdol's natural focus supplements are here to guide you to victory. With an exclusive blend of carefully chosen ingredients, React Faster and Focus Better work in harmony with your body to give you a competitive edge.​
Lightning-fast reactions and razor-sharp focus
With our lives becoming increasingly complex, it's never been more critical to give tasks your utmost attention, and to be able to process lots of information at a time. In these situations, you can turn to React Faster or Focus Better. Not only can you take the supplements alongside one another, but the use of natural ingredients makes them ideal for regular, daily consumption.
Introducing React Faster and Focus Better from Cibdol
Our natural range of focus supplements can help augment cognitive performance, giving you the support you need, when you need it. To that end, React Faster and Focus Better are the first of many new additions.
What can you expect from React Faster?
Give yourself the edge you need with React Faster, the natural way to support lightning-fast reactions. It doesn't matter whether you are a busy professional or a gamer looking to dominate the competition; the exclusive blend of Panax ginseng, taurine, green tea, and Brainberry® Bioactor will help you stay ahead of the curve.
What can you expect from Focus Better?
Total focus and concentration are only a capsule away with Focus Better, a unique combination of essential vitamins and minerals, zeaxanthin, Ginkgo biloba, green tea, caffeine, and the innovative Brainberry® Bioactor. Together, these elements bolster multiple areas of cognitive performance, including alertness, blood circulation, and concentration.
Why choose React Faster or Focus Better?
Whether it's undivided attention or split-second reactions, the need for peak cognitive performance is never far away. It could be gaming, high-intensity sports, or a complex business proposal—no matter the challenge, we wanted to develop a range of products that work with your body, not against it.
Other benefits of Focus Better and React Faster include:
• Innovative Brainberry® Bioactor extract
• Suitable for short and long-term use
• Supports the nervous system (vitamin B and folate)
• Ideal for an active or high-performance lifestyle
Natural focus supplements for a competitive edge
Living life to the fullest is about chasing your dreams. Whether that's coming out on top in a competitive environment or simply trying to beat your personal best, it helps to have Cibdol on your side. Our natural focus supplements ensure you have the edge you need, without overloading your mind or body.
Try Focus Better and React Faster today to experience the benefits in just several days, which continue to build the longer you take them. Staying ahead of the competition has never been easier.
Sign up to our newsletter and enjoy 10% off one order