What Should I Wear to My First Yoga Class?
Yoga newbies often wonder what they should wear for their first yoga class. With so many different styles of yoga and yoga clothing options available, it can be confusing trying to figure out what to wear. The good news is that yoga apparel doesn't have to be complicated or expensive. Comfort and ease of movement are the most important factors when choosing what to wear to your first yoga class.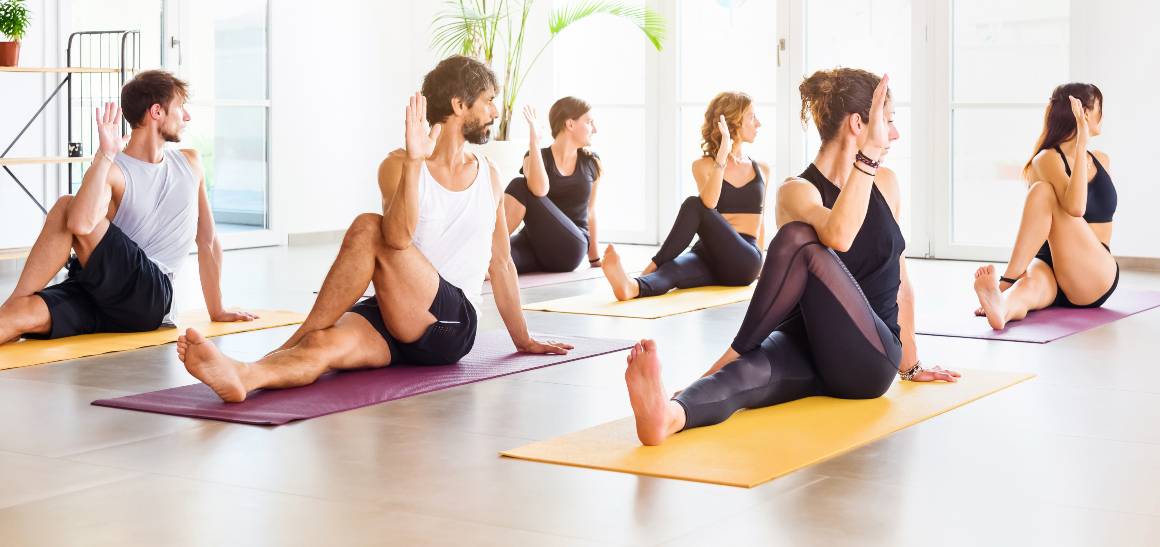 Choose Comfortable Clothing
When trying yoga for the first time, opt for comfortable clothing that allows you to move freely. Form-fitting yoga pants or leggings are a popular choice, providing coverage while allowing an extensive range of motion. Loose-fitting yoga pants work too, as long as they don't fall down or get tangled around your legs. Shorts are also perfectly acceptable, as long as you feel comfortable wearing them.
On top, go with a simple t-shirt or a tank top made from a stretchy, breathable fabric like cotton. Avoid bulky, oversized tops that could get in the way while you're moving through yoga poses. You want to be able to see your body's alignment and your instructor needs to be able to see your form to offer any corrections.
Will you get hot and sweaty during yoga? Go with moisture-wicking fabrics that will keep you cool and dry throughout your practice. Avoid anything too tight or restrictive that could make moving through poses more challenging. The right yoga clothes let you bend, twist, and stretch freely.
Skip the Zippers, Buttons and Jewelry
When getting dressed for your first yoga session, leave behind clothes with zippers, buttons, or embellishments. These can be uncomfortable and even hazardous when twisted into yoga poses. Jewelry can also get in the way or even pose safety risks. Remove any dangling earrings, necklaces, bracelets, rings or watches before class. Leave any sharp or large belt buckles behind as well.
Try to avoid clothing with noisy fabrics that could be distracting in a quiet yoga class when you are moving. Even that favorite old hoodie that is perfectly worn-in could be disruptive with its swishing sounds each time you change positions. Opt for soft, breathable fabrics that move silently with your body.
Barefoot vs. Socks
Most yoga is practiced barefoot to improve stability, traction, and body awareness. Being barefoot helps you grip the mat better, especially for balancing poses. However, don't feel compelled to kick off your shoes immediately if being barefoot makes you uncomfortable as a beginner. Lightweight socks can provide needed foot protection and traction while allowing you to experience the poses. Just be sure to avoid slippy socks that could lead to falls.
Yoga toe socks are ideal when transitioning away from regular socks. They separate your toes to mimic being barefoot while still providing a thin barrier. Over time as you become more comfortable, you can try practicing select poses barefoot and work toward removing socks entirely.
Skip the Street Shoes
Leave your street shoes, flip flops, boots or sandals outside the yoga studio. Not only can outdoor footwear be uncomfortable and unsafe for yoga, but it also tracks in dirt that can lead to slippery spots on your mat. Enter the studio in clean socks or bare feet to keep your space clean.
If you need to wear shoes to walk to class, choose flexible, thin-soled options that can easily slip off, allowing you to store them right next to your mat. Avoid chunky or rigid soled shoes that don't flex naturally with the foot. The ideal yoga shoe adapts seamlessly to your foot's shape. Minimalist shoes or slip-on sandals work well if your studio recommends removing shoes before class.
What to Bring
On your first day, the only true necessities are comfortable clothes, an open mind, and a willingness to try new movements and poses. However, most yoga studios recommend bringing the following items:
Yoga mat - Provides cushion and traction for poses. Check if mats are provided or if you should bring your own.
Water - Hydration is key. Bring water to sip, not a huge pre-workout container.
Towel - Absorbs sweat in hot classes. A yoga towel adds traction and cushioning.
Props - Bolsters, blocks, straps etc. to assist with poses as needed. Check if provided.
Yoga mat spray - Keeps your rented mat clean. Skip if you bring your own.
Hair tie - Keeps long hair off your face and neck when flowing through poses.
Layers - Easily add or remove layers as your body heats up and cools down.
Toiletries - If showering at studio after class.
Arrive Early
Aim to arrive at the yoga studio 15-20 minutes before your first class begins. This gives you time to sign in, use the restroom, stash your belongings, and get settled on your mat. Take off your shoes and get comfortable seated on your mat. Use this time to begin breathing deeply and centering your awareness before the teacher starts class.
Observe those around you and take any cues on yoga etiquette. Silence phones and avoid chit chatting during class. Try to keep tissues, snacks, and other items off your mat space. Position yourself towards the front where the teacher can see you easily to provide guidance and adjustments throughout class.
Relax and Have Fun!
Above all, remind yourself that your first yoga class is meant to be enjoyable! Avoid fixating on your clothing or comparing yourself to other students. Focus instead on paying attention to your breath, being present, and moving mindfully through the poses. The right yoga outfit lets you move freely while remaining comfortably covered as you flow, bend, twist, invert and stretch. With the basics covered, the only thing left is to relax and have fun during your yoga debut. Namaste!
How to Pick the Best Yoga Clothes for Women
With countless athletic apparel brands marketing "yoga clothes" it can be tricky to discern which yoga outfits will actually perform best for your practice. While you don't need expensive designer duds to reap the benefits of yoga, choosing flattering, functional clothes does enhance comfort and range of motion in class. Follow these tips to select women's yoga clothing that strikes the ideal balance between fashion, fit and function.
Focus on Stretchy Fabrics
The number one rule when shopping for yoga attire is to look for tops and bottoms made from stretch-friendly fabrics with four-way stretch. These fabrics flex in multiple directions, allowing unrestricted mobility. Bendy fabrics like spandex, nylon, polyester, rayon, and lycra have natural elasticity, making them ideal for twisting yoga poses.
Cotton is breathable and absorbent but has minimal "give." Stick with cotton blends featuring at least 10% spandex for necessary stretch. Avoid stiff, restrictive fabrics that impede movement, like denim, leather, sequins or canvas. Test stretch by tugging fabric in different directions - quality yoga gear springs back into shape.
Let Leggings Lead the Way
Search for yoga leggings with a wide, high-rise waistband that holds you in while bending and won't dig in or slide down. Choose substantial, mid-weight fabrics versus paper thin leggings prone to showing every lump and bump. Opt for leggings that are ankle or full length - capris may hike up.
Solid black leggings are a versatile staple that pairs with any top. Go for bold colors and prints if you crave variety. Look for moisture wicking fabric to repel sweat during hot yoga. Pocketed leggings are handy for stashing cards and keys too. Ensure leggings are fully opaque and not see through when stretched or bent over.
Choose a Supportive Sports Bra
Finding a sports bra with compression and encapsulation is crucial for keeping the girls in place during inversions. Look for bras with wide straps and band for optimal support and lift. Racerback bras allow free upper body rotation. Avoid flimsy bras with skinny spaghetti straps prone to slipping.
Consider removable padded bras to prevent headlights when the studio gets chilly. Bounce test sports bras by jumping up and down - minimal vertical movement means you've found a winner. Let comfort be your guide when deciding between high or low impact bras for your bust size. Your yoga bra keeps you confident and centered.
Pick the Right Yoga Tops
Choose loose yoga tops with extra length that won't ride up or come untucked during Downward Dog. Longer shirts cover your backside when folded forward. Scoop neck tops allow breathing room versus restrictive crew or turtlenecks.
Look for tops with side slits or mesh paneling to boost ventilation during hot yoga. Thumbholes keep sleeves in place. Avoid noisy, slippery fabrics that rustle or slide around. The best yoga tops move seamlessly with your body.
Skip Distracting Details
Favor simple, streamlined yoga outfits free of noisy zippers, toggles, velcro or bells that can be disruptive in calming classes. Avoid bold logos plastered across clothes as well - you want to add tranquility, not distractions. Jewelry can get snagged in clothes and poses - remove before entering studio.
Say no to coarse lace, itchy tags or rigid seams that chafe sensitive skin. Anything that digs, pinches, or scratches diminishes focus. Seek flatlock stitching that lies flat against skin for irritation-free wear. With yoga clothes, simplicity allows you to turn inward and deepen awareness.
Make Comfort Your Top Priority
Above all, choose yoga outfits you feel amazing wearing. Mix and match bra, legging and top options to create looks that reflect your personal style. Seek confidence boosting colors and prints that bring you joy. Ensure your yoga wardrobe provides the coverage level you desire. Stay true to your own comfort preferences for the very best yoga experience.
How to Pick the Best Yoga Clothes for Men
Gone are the days when men's "yoga clothes" meant old shorts and a ragged t-shirt. Today's guys have abundant options for fashionable yoga apparel optimized for comfort and performance. Choosing what to wear can feel like a headstand at first. Follow these tips to master stylish men's yoga wear that perfectly supports your practice.
Prioritize Stretchy Fabrics
The number one consideration for any yoga garment is freedom of movement. Seek tops and bottoms made from lightweight, four-way stretch fabrics like spandex, nylon and polyester that flex easily. Avoid stiff, restrictive materials like denim or canvas that impede your range of motion.
Natural fibers like cotton and bamboo rayon provide breathability. For necessary stretch look for at least 10% spandex in cotton blends. Test stretch by tugging fabric in different directions - it should snap back into shape, not sag. Your yoga kit should move with you, not against you.
Reach for Yoga Leggings
Once reserved for women, yoga leggings for men offer unparalleled comfort and free range dynamics perfect for deep warrior lunges and folding forward in Straddle. Leggings wick moisture, prevent chafing and provide smoothing compression. Look for a sturdy waistband that stays put without digging in.
Solid black leggings deliver versatility. Adventurous yogis can opt for bolder colors and prints. Ensure leggings provide opaque coverage - nobody wants to experience sheer pants firsthand. Look for convenient pockets to stash keys or an ID. Quality yoga leggings empower movement.
Level Up with Yoga Joggers
Joggers merge the comfort of sweatpants with a more put-together silhouette. Choose lightweight joggers in moisture wicking fabric. A tapered leg design prevents pooling fabric while cuffed hems show off flashy socks and sneakers. Joggers work great for traveling to and from class in style.
Opt for joggers with an adjustable drawstring waist if you prefer a snugger fit versus loose and flowy. Zippered pockets securely stow valuables during inversion poses. Stick to solid neutral hues for maximum versatility. Yoga joggers keep it casual while still looking sharp.
Pick a Supportive Yoga Tank
Skip the saggy old t-shirts and level up your yoga top game with a sleek tank. Look for longer lengths that won't untuck or ride up mid-flow. Tanks with mesh paneling boost ventilation for sweaty hot yoga sessions. Binding around the neckline and armholes prevents stretched out, warped edges over time.
Ample side slits allow free upper body rotation. Thumbholes are great for keeping sleeves in place too. Look for flatlock seaming that prevents skin irritation and chafing. A quality yoga tank provides breathable comfort with zero restrictions.
Select Shorts Wisely
If you prefer shorts over leggings, choose lightweight shorts in a mid to longer length to provide ample coverage. A 7 to 9 inch inseam is ideal for most body types. Shorter shorts have a tendency to ride up or pinch when seated in poses.
Look for shorts with an elastic waist, internal drawcord or no-tie laces to create a custom fit. Side pockets safely stow keys, cards and cash for easy access. For hot yoga, moisture wicking fabric helps keep you cool and dry even when temps climb. Move freely without worry in yoga shorts designed for men.
Go with Your Gut
When selecting yoga gear, opt for pieces you genuinely feel great wearing. You want clothes that boost confidence and support self-expression. Mix and match tops, bottoms and layers to cultivate looks that resonate with your personal style. Seek fabrics and fits that make you feel centered and empowered to fully immerse in practice. Trust your gut instinct - you've got this!
Yoga Clothing Styles to Avoid
What not to wear when rolling out your yoga mat? Certain clothing types hamper your practice or increase likelihood of a wardrobe malfunction. Steer clear of these ill-suited yoga garments for the ultimate mind-body experience:
Jeans - Too Restrictive
Denim limits mobility needed for yoga flows and folds. Rigid jeans lack four-way stretch crucial for free movement. Thick fabric also traps heat, causing you to quickly overheat. Save jeans for running errands, not downward dog.
Pleather Leggings - Too Hot
Faux leather leggings seem edgy in theory but prove painfully hot and restrictive during yoga. Non-breathable pleather and plastic fabrics trap heat and sweat next to your skin, creating a slippery mess. Let your luminous spirit shine by choosing breathable fabrics that allow body and mind to move freely.
Miniskirts - Too Revealing
Avoid dangerously short miniskirts, dresses or skorts that can lead to overexposure. Choosing the wrong length risks revealing underwear during inversions or seated folds. Lengthy capris, leggings, shorts or yoga pants provide necessary coverage through all poses.
Bulky Sweatshirts - Too Baggy
Oversized hoodies lack shape and billow out, impairing alignment feedback. Excess fabric gets twisted restricting your range of motion. Stick with fitted tops in lightweight material that move with you. Savor the warmth and comfort of your favorite sweatshirt before and after yoga instead.
Costumes - Too Distracting
Save the Halloween costume or animal onesie for theme parties, not yoga class. Outlandish looks disrupt focus for you and those around you. Quirky yoga pants featuring noisy bells, whistles and other attachments also divert attention from breathing and being present.
Ragged Tees - Too Worn
That ancient graphic tee with holes is best retired, not recycled into workout wear. Frayed, threadbare tops signal neglect, not ethos. Choose fresh, purposeful yoga tops that respectfully support your personal practice and growth. You lift yourself up by elevating the intention behind your actions.
Tight Turtlenecks - Too Constricting
Binding tops like turtlenecks and crewnecks feel suffocating mid-flow, making it hard to breathe deeply. Fabric bunched at your throat inhibits relaxation. Go for loose, open necklines for unrestricted breathwork. If you chill easily, layer a jacket over a comfy v-neck tee instead.
Ill-Fitting Bras - Too Unstable
Flimsy bras, saggy sports bras, and thin bralettes lack the structure needed for inversions, folds and balances. Insufficient support leads to wardrobe malfunctions mid-class. Seek bras that minimize bounce and keep you lifted with encapsulation and compression. Proper fit enhances comfort allowing you to tune inward.
Bottom line: Yoga clothes should support, not detract from practice. Choose attire that clears physical and mental space helping you find focus and presence on the mat. When in doubt, opt for simple staples in stretchy fabrics. Your yoga outfit makes a statement - be sure it conveys your values.
How to Care for Yoga Clothes
Investing in quality yoga apparel helps inspire consistent practice, but only if you care for it properly. Follow these simple tips to keep your yoga wardrobe looking and performing its best:
Check Labels Before Washing
Read fabric care labels before tossing your yoga clothes in the laundry to avoid damaging garments. Look for machine wash cold water settings. Hot water can fade fabric and degrade elasticity prematurely. Unless specified, avoid bleach that weakens fibers over time.
Look for tumble dry low or line dry instructions - high heat deteriorates stretchy fabrics. Do not dry clean spandex, nylon and polyester gear without confirmation. When in doubt, opt for gentle cool water washes and air drying to prolong garment lifespan. Handle high-tech yoga fabrics with care.
Wash After Each Wear
Wash yoga clothing after every use to prevent odor issues from lingering sweat. Letting sweat-damp clothes fester promotes bacterial overgrowth that lingers. For hygienic, smell-free gear, make laundry a habit, not an afterthought.
Post-class, keep dirty clothes separate until washing to avoid cross-contamination odors. Turn garments inside out before washing as well to fully cleanse fabric. Follow each wash with a complete dryer cycle to prevent mildew risks in bundles of damp clothing.
Use a Gentle Detergent
Skip the heavy duty detergents and pretreatments - they are too harsh for delicate yoga apparel.
Frequently Asked Questions About What to Wear to Your First Yoga Class
What type of clothes are best for hot yoga?
Hot yoga is practiced in a heated studio, so moisture-wicking, breathable fabrics are ideal. Avoid cotton, which will get heavy with sweat. Opt for lightweight, synthetic materials that dry quickly. Flowy tanks and shorts allow lots of ventilation. A sports bra will absorb sweat. If you chill easily, bring a light coverup.
What if I'm self-conscious about my body?
It's normal to feel apprehensive your first class. But remember everyone is there to focus on their own practice, not judge you. Yoga bodies come in all shapes and sizes. Avoid comparing yourself to others. Wear what makes you feel comfortable, not self-conscious. Studios want you to feel welcome as you are. Over time you'll feel more at ease.
What yoga clothes should I avoid for modesty reasons?
How much coverage you want comes down to personal preference. Form-fitting leggings or capris with a loose t-shirt offer modesty. Avoid very short shorts or low cut tops if they make you uncomfortable. Some may want to cover knees, elbows or wear shorts over leggings. Tunics, long sleeves and layering pieces provide more coverage too. Do what feels right for you.
Should my yoga clothes be tight or loose?
The best yoga wear fits snugly but allows full freedom of movement. If clothes are too tight, they will restrict your ability to flow between poses. Extremely loose or baggy clothes can bunch up or cause tripping hazards. Look for fitted garments in stretchy fabrics that move with your body. They should conform but not constrain.
Can I wear my gym clothes?
Your regular gym clothes will work fine for a beginner yoga class as long as they allow free range of motion. Stretchy leggings, athletic shorts, and moisture wicking tops transfer well to yoga. Just avoid bulky sweatshirts or jeans with no give. Any lightweight, breathable workout wear that enables movement without distraction is perfectly suitable.
Do my yoga clothes need to be expensive?
Not at all! While there are plenty of pricey designer options, you can start out in basic, budget-friendly activewear. Visit discount retailers like Costco, TJ Maxx or Marshall's for affordable yoga staples. Check thrift stores for gently used pieces too. Solid color leggings, basic tanks, and stretchy tops will get the job done without blowing your budget. Upgrade later if you want.
What if I don't have any athletic clothes? Can I wear pajamas?
If you truly don't own any exercise apparel yet, wearing pajamas to your first class is better than nothing. Look for lightweight pajama pants and a t-shirt made of breathable cotton. Avoid flannels or heavyweight fabrics that could get hot. If possible, borrow clothes from a friend first. Let the instructor know you're making do until you get proper yoga attire. They'll understand.
Should I accessorize my yoga outfit?
Accessories like belts, scarves, or headbands tend to be distracting in yoga class. Skip the jewelry too. The simpler your look, the better. The one exception is hair ties to pull back long locks and keep them off your face. Resist temptation to fuss with your appearance and instead direct that attention inward to your breath, movement and alignment. Free yourself of distractions.
How early should I arrive and change?
Plan to arrive at the yoga studio 15-20 minutes prior to start time. This gives you a buffer to use the restroom, store your belongings, and get settled on your mat before class begins. Resist temptation to chat with others during this time. Sit quietly, breathe, and start to get centered. Leaving time to get grounded will help you make the most of your first yoga experience.
Summary
Yoga newcomers often wonder what they should wear to their first ever yoga class. Having the proper outfit can impact comfort, range of motion, and confidence during your initial yoga experience. Focus first on stretchy, breathable fabrics that allow freedom of movement through different poses. Form-fitting yoga pants, leggings, shorts, or capris paired with a fitted athletic top or t-shirt typically works well. Avoid restrictive materials like denim, pleather, or heavy cotton. Opt for moisture wicking fabrics if sweating is a concern. Skip complicated straps, buttons, or noisy fabrics that could be distracting. Simple, solid pieces help you focus inward, not on your outfit. Leave flashy jewelry at home as well to prevent snagging. Many studios have mats, but bring your own if you have one for hygiene. Arrive early to get settled before class starts. Yoga clothes don't need to be expensive designer brands. Affordable activewear that enables movement will get the job done. Most importantly, don't let finding the perfect outfit stop you from trying yoga. Wear what feels comfortable to you. The inner tranquility yoga cultivates matters far more than what you wear on the outside.
Sign up to our newsletter and enjoy 10% off one order