Reviewer: Levent Mendirme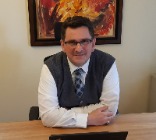 Levent Mendirme, BPharm, has always been passionate about the use of supplementary interventions for a longer healthspan and healthier life. Since graduating with a Bachelor in Pharmacy from the Gazi University School of Pharmaceutics, he's worked across multiple pharmaceutical industry sectors.
With over 28 years of experience, Levent has launched hundreds of consumer healthcare products, lending his extensive knowledge to sectors such as B2B business development, medico-marketing strategies, and market access for pharmaceutics. As a foremost expert in liposomes and liposomal activity, his passion for supplements makes him a highly credible addition to our review team.
Alongside his position as E-Conn Healthcare Consulting founder and COO, and his role on the Scientific Advisory Board at CureSupport Group, Levent will provide us with valuable insight, ensuring Cibdol content continues to meet exceptionally high standards. Levent also publishes his own works, including educational videos and presentations, on www.e-conn.org.
Whether it is the pursuit of cutting-edge liposomal formulas or his unparalleled experience with pharmaceutical products and services, Levent uses his knowledge to better people's physical and mental well-being. Search "liposomal_academy" on YouTube, or find him using the links below.