What is CBD Vape?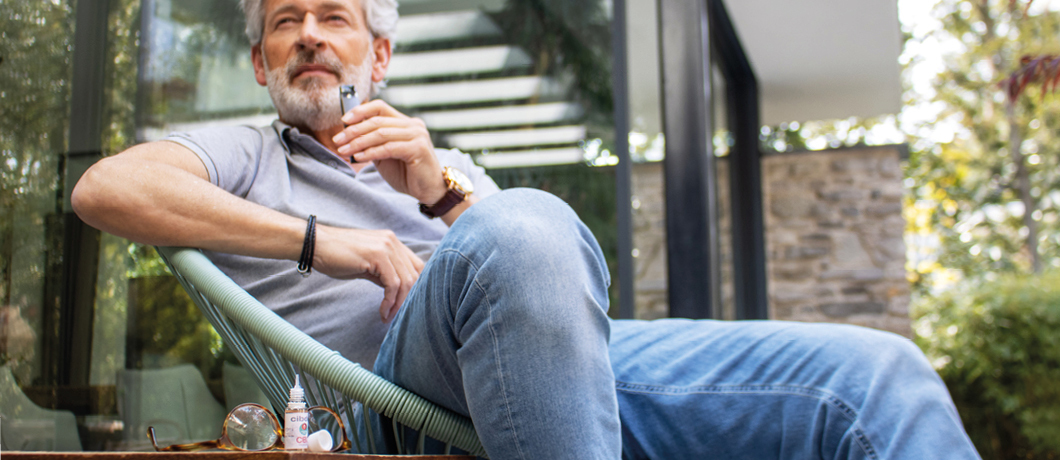 CBD Vape from Cibdol is a comprehensive selection of high-quality CBD vape juices. Designed exclusively for use with vape pens and e-cigarettes, each vape juice gives you the freedom to experience the power of CBD when you need it most.
Also known as CBD vape liquid, these products produce vapor suitable for inhalation. Thanks to the excellent bioavailability of CBD vape juices, effects are near-instant. And, with third-party testing on all Cibdol CBD vape liquids, you can enjoy with total confidence and peace of mind.

Available in a range of concentrations and dozens of highly desirable flavours, you can trust Cibdol to provide golden-grade vape juice entirely free of THC and nicotine.
What is the difference between CBD Vape and CBD Oil?
Although CBD oils and CBD vape juices may look very similar, it's important not to confuse the two.
CBD oils combine CBD extract with carrier oils such as hemp seed, olive, MCT, or black cumin seed. Due to the sophisticated production process and characteristics of these carrier oils, they are absolutely not suitable for vaping.

While it is common to see MCT oil in both CBD oils and CBD vape liquids, CBD oils utilise a specific ratio of ingredients. Vaping CBD oils will result in an unpleasant and potentially dangerous experience that may also damage your vape pen.
CBD vape juices, on the hand, are exclusively for vaping. After expertly extracting CBD from naturally grown hemp, we blend the full-spectrum CBD extract with propylene glycol (PG) and vegetable glycerine (VG).

Both are odourless liquids that ensure a clean, safe, and enjoyable vapor for inhalation. The balanced ratio provides a pleasant experience, perfect for dosing CBD.
How to use CBD vape juice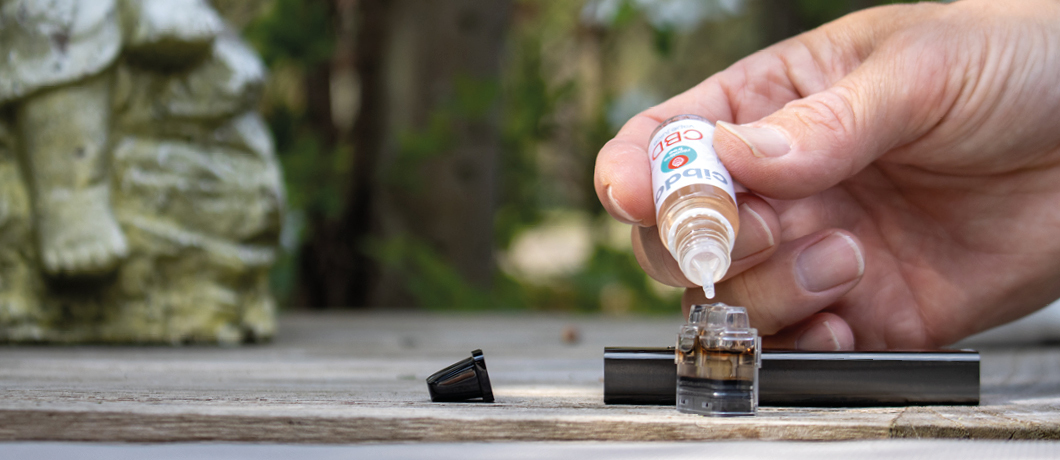 Using Cibdol CBD Vape couldn't be easier.

Not only are the vape juices skillfully blended, but they come in a wide range of concentrations and flavours. You can easily tailor your wellness experience to your needs.
Every bottle of CBD vape juice works seamlessly with vaping and e-liquid devices. Simply add the desired amount of vape liquid to your device, or create blends using other vape additives or flavours—the choice is yours.

Cibdol CBD Vape works with many rechargeable vaporizers, cartridge-style devices, and e-cigarettes.
When you're ready, and your device is warmed up, inhale the vapor to feel the near-instant impact of CBD.

Inhaling CBD gives the compound direct access to the bloodstream thanks to capillaries in the lungs. In fact, CBD vape liquids are more bioavailable than almost all consumption methods.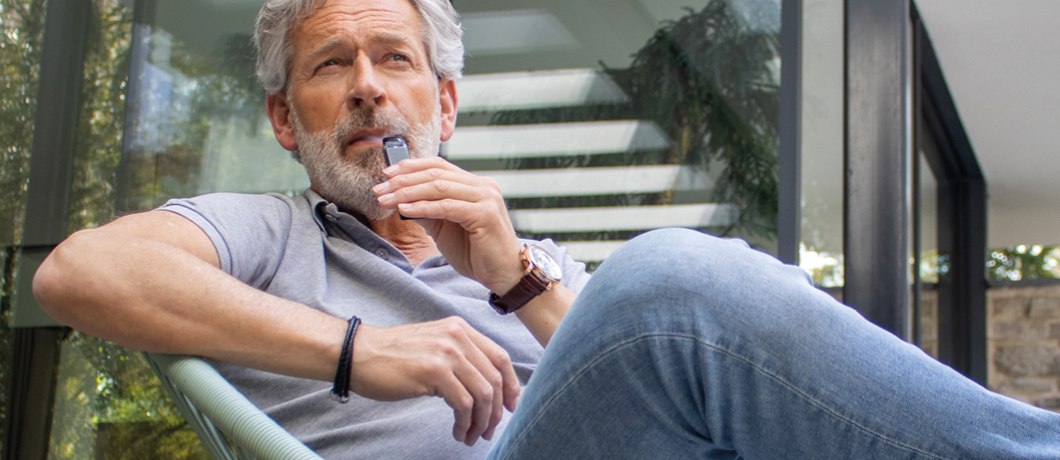 How long does CBD vape juice last?
To maintain their quality and efficacy, you should store CBD vape juices away from direct sunlight in a cool, dry location. Just like other cannabinoid-infused products, heat, light, and air can degrade the active ingredients.

As for how long a bottle lasts, that depends entirely on how much you vape. A single bottle of CBD vape juice can last a few days to several months.
If you are new to CBD vape liquids, we recommend starting with a low concentration (500–1000mg) and vaping a few times throughout the day.

As you become accustomed to the effects of CBD, you can increase the dose and frequency accordingly. If, however, you have any concerns about vaping, or the effects of CBD, we recommend speaking to your doctor first.
Is CBD vape juice harmful?
All Cibdol CBD vape juices are free of THC and nicotine.

We also prepare our CBD vape juices using high-quality thinning agents (PG and VG)—both considered safe for use. However, it's important to be aware of the potential risks associated with vaping.
For a pure experience, you should choose CBD vape juice free of any unwanted additives or chemicals. Fortunately, Cibdol ensures third-party testing of all CBD extracts so you know exactly what's in every bottle.
Why buy CBD vape juice from Cibdol?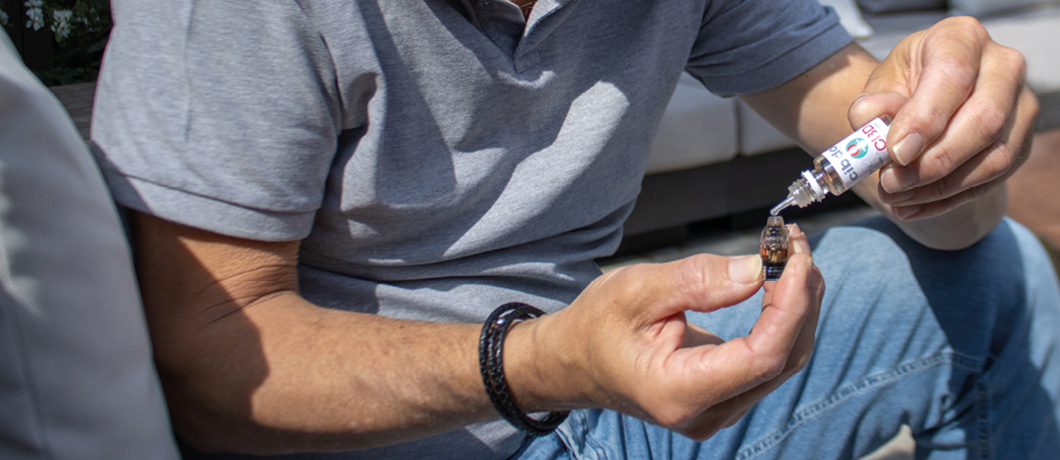 Cibdol CBD vape liquids offer unprecedented viability thanks to their incredibly high rate of absorption—the impact of CBD is pronounced and near-instant. And, with the backing of golden-grade CBD extracts, third-party testing, and industry expertise, you can experience the power of CBD vapor with total confidence.
Buy CBD vape juices online from Cibdol today and choose from a variety of concentrations and an even larger selection of flavours—all completely free of THC, nicotine, and unwanted additives or chemicals.

If you're ready to experience the outstanding quality of Cibdol CBD vape juices, but don't have a vape pen, browse the Cibdol store for a comprehensive selection of compatible devices.